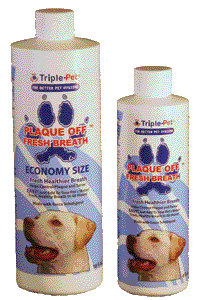 Triple•Pet Plaque Off - Fresh Breath (POB) is a uniquely formulated aid to oral health for dogs, cats and small mammals. Just add a capful to every bowl (24oz) of drinking water. Results within 48 hours! Using a special blend of ingredients, POB helps eliminate plaque and tartar build-up and odor causing compounds in your pet's digestive system. Veterinarian recommended and made with human food grade ingredients. Available in 8 and 16 oz bottles.
What makes it work: Yucca Schidigera, a natural Yucca plant extract, combined with Stabilized Chlorine Dioxide, makes Plaque Off™ very effective.
Yucca aids in the absorption of important nutrients, which decreases odors. It reduces breath and waste odors caused by ammonia based compounds and reduces urine acidity which prevents brown grass stains.
Stabilized Chlorine Dioxide is an oxidizing agent which enhance the exchange of oxygen at the cellular level. It oxidizes hydrogen sulfide and ammonia molecules which reduces breath and waste odors. In the mouth Stabilized Chlorine Dioxide breaks up food films to help prevent plaque and tartar build up.
Ingredients: Purified Water, Anthium Dioxide, Yucca Schidigera, Mint Oils, Sodium Benzoiate